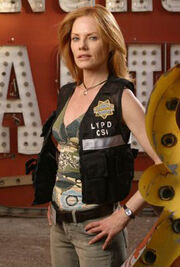 Last month it was revealed that Ted Danson would replace Laurence Fishburne in the lead role of CSI. The Emmy and Golden Globe winner takes over as CSI supervisor, attempting to fill the shoes of original cast member William Petersen, a task that Fishburne failed to do. Ratings dropped significantly after Petersen departed, so bringing in Danson is a great gamble by the producers to reboot the show's massive fan base.
To make that initiative more difficult, it was just announced that original cast member Marg Helgenberger will also be leaving the show. Helgenberger, who played Catherine Willows in over 250 episodes, will remain on CSI for a final stretch until January. She was originally going to leave after last season, her 10th, but agreed to stay a bit longer to allow the writers to wrap-up the story of Catherine Willows appropriately. Her final appearance will be in Season 11, Episode 12.
Losing Petersen caused a big drop in ratings, and it's safe to assume that losing Helegenberger will do the same. It's nearly impossible to successfully replace such mainstays. Now all of the pressure is on Ted Danson to revive the show, or worse, sink with the ship.
Which actor will you miss the most?
Ad blocker interference detected!
Wikia is a free-to-use site that makes money from advertising. We have a modified experience for viewers using ad blockers

Wikia is not accessible if you've made further modifications. Remove the custom ad blocker rule(s) and the page will load as expected.