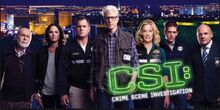 Hi! I am a huge CSI fan. I love crime and mystery shows. I also love reading mystery and crime fiction novels.
Favorite Shows:
1. CSI: Crime Scene Investigation
2. CSI: Miami
3. Law and Order: Special Victims Unit
Favorite Books:
1. To Kill a Mockingbird, by Harper Lee
2. And Then There Were None, by Agatha Christie
3. After the Funeral, by Agatha Christie
Favorite Episodes of CSI:
2. Grave Danger, Part 1 / Grave Danger, Part 2
Favorite Movies:
1. Sherlock Holmes, A Game of Shadows
2. Pitch Perfect
3. Psycho ( Alfred Hitchcock )
I ship the couple Morgander!