The first season of CSI: Miami.
Season Summary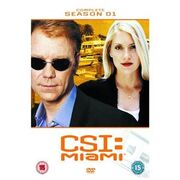 Megan Donner comes back to work for the Miami Crime Lab along with Lt. Horatio Caine, Tim Speedle, Eric Delko, Calleigh Duquesne along with the teams M.E Alex Woods. Here the team investigate crimes speaking up for those who cannot speak for themselves. From the case of an areoplane crashing into the evaglades to the murder of a brutal college professor who has an obsession with pain they follow the evidence to get to the truth. Megan Donner unable to cope with her husbands death leaves the crime lab prior to episode 11.The team go on coping with close calls including Speeds near death in Dispo Day and the escape of three felons in the season finale including child killer Stewart Otis.
Also introduced are hardened Texan Detective Frank Tripp (Evidence of things unseen) and the sister in law of Horatio Caine Detective Yelena Salas (Simple Man) along with errie hints at the fate of the late Raymond Caine.
Opening Credits
Main Cast
Recurring Characters
Episode List
Image
Title
Writer(s)
Director(s)
Airdate
#
Golden Parachute
Writer: Steve Maeda
Director: Joe Chappelle
9/23/2002
#1 101
Megan Donner returns to the CSI unit in time to work on a jet crash in the Everglades. While searching for survivors, they inexplicably discover a female victim found five miles from the crash site. When the only survivor says the woman opened the plane's hatch in order to commit suicide, Horatio is suspicious. The team must now recreate what happened on that fatal flight, especially when the pieces don't quite fit together.




Losing Face
Writer: Steve Maeda and Gwendolyn Parker
Director: Joe Chappelle
9/30/2002
#1 102
A necklace bomb explodes, killing a man and a good friend of Horatio's. With his friend (and mentor) gone, Horatio works doubly hard in this case, worrying Megan, who also lost a friend in the line of duty. With three more bombs, they are put to the test to find out who is doing it and who are the targets. With evidence in hand, they search a Colombian port and discover things about the workers that they think will help the case. However, new evidence suggests that the bomber is after the bomb squad.



See Also