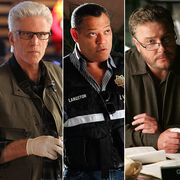 List of
CSI: Crime Scene Investigation
episodes
CSI: Crime Scene Investigationpremiered on October 6, 2000 and since then twelve seasons have aired, the thirteenth is currently airing.
The first season had 23 episodes, including the two-part pilot episode written by series creator Anthony Zuiker; seasons two through four also had 23 episodes each. Season five had 25 episodes, while seasons six and seven had 24 each. Season eight was shortened to 17 episodes by the WGA strike, but season nine returned to the previous seasons' standard of 24, while Season 10 had 23 episodes. Season 11 and 12 had 22 episodes, due to decreasing ratings. Season 13 is expected to have 22 episodes as well.[1]
As of February 13, 2013, 287 episodes of the series have aired.
References