Mascara is the eighteenth episode of the ninth season of CSI: Crime Scene Investigation, and the 200th episode overall.
Synopsis
One of Langston's former grad assistants is murdered. He discovers that she was investigating Mexican Wrestling to discover the identity of an unknown serial killer.
Plot
Cast
Main Cast
Recurring Cast
Matt O'Leary as Dan Forester
Guest Cast
Carlos Carrasco as Esteban Fellipe
Aimee Deshayes as Sylvia Mallick
Reynaldo Gallegos as Julio Maytorena
Enigma de Oro as Los Chivos
Kayam as Los Chivos
Martin Fernandez Lepe as Mercurio Jr.
Conrad Robert as Palo Priest
Alan Fleury as Steve (uncredited)
Trivia
This is the 200th episode of CSI:Crime Scene Investigation.
The opening credits, from this episode, its different from the usual. 
Behind the Scenes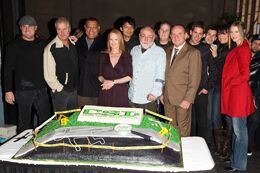 See Also