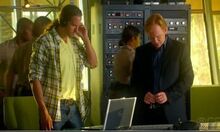 Dave Benton is the current current Audio/Visual tech for the Miami-Dade Crime Lab, replacing Tyler Jenson and Dan Cooper.
He is a rock star kind of guy.
He is played by Wes Ramsey.
Trivia
Wes Ramsey previously appeared in the CSI: Miami Season 1 episode, Spring Break as Kip Miller.