CSI:Dark Motives
Talk

0
1,395pages on
this wiki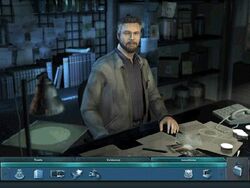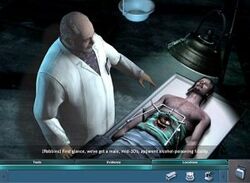 CSI: Dark Motives
is a computer game based on the
CSI: Crime Scene Investigation
television series. The game was developed by 369 Interactive, published by
Ubisoft
, and was released for the PC in 2004. In November 2007 it was remade by
Powerhead Games
, published by
Ubisoft
and released for
Nintendo DS
.
This game, like its prequel CSI: Crime Scene Investigation, its sequel CSI: 3 Dimensions of Murder and CSI: Miami, follows a distinct pattern of five cases, with the fifth case tying together the previous four.
The Cases
Edit
Case 1: "Daredevil Disaster"
Edit
When Ace Dillinger, a professional stuntman for World's Wildest Stunts, crashes his motorbike at a stuntshow, there is a call for the CSI crew. You play a new recruit working with Catherine Willows on this case.
Case 2: "Prints and Pauper"
Edit
A seemingly homeless man is found dead in an abandoned insane asylum. The contents of his stomach seem to show otherwise. The only suspects are the owner of a restaurant, and a woman who is the daughter and sole heir of a wealthy man. You work with Warrick Brown on this case.
Case 3: "Diggin' It"
Edit
Human bones are dug up at a construction site for a new casino. It is believed the site is an ancient Indian burial ground. You work with Sara Sidle in this case.
Case 4: "Miss Direction"
Edit
A woman is shot dead during a rehearsal for a play, apparently shot with a prop gun. You will work with Nick Stokes in this mission.
Case 5: "Dragon and Dropping"
Edit
A poisonous Komodo is killed and a toe found. Who got this peaceful predator to attack anyway? You work with Gil Grissom.