Minor Character: Miami
Name
Aaron Jessop
Gender
Male
City
Miami
Status
Deceased- killed by a hand grenade
Portrayed By
Joel West
Aaron Jessop was a patrol officer, Jessop joined the force during Season 2 and his first appearance was in The Oath. While he thought like a cop, he also was able to think like a CSI. This was evident in "The Oath", where he was able to help Calleigh assess the crime scene and upped the charge and penalty.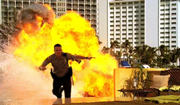 Jessop was killed when he opened a cabinet rigged with a hand grenade booby trap at the scene of a Mala Noche shootout, leaving Horatio and the other CSIs distraught at his death. Alexx mentioned he was 27 years old.
Trivia
Joel West who plays Jessop had previously appeared as Officer Ramirez in the Season 2 episode "Big Brother".